For some reason I lose JavaScript intellisense after debugging my ASP.NET Web Application in Visual Studio 2012.
You can see that when I start, I have full intellisense. In the below picture I get knockoutjs intellisense: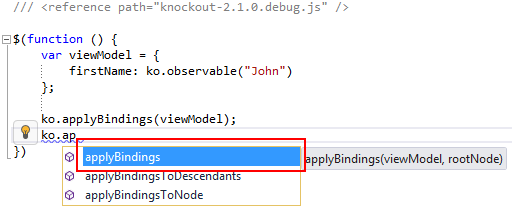 However, as soon as I debug the application I lose intellisense. For example, if I hit F5 to debug [update: incidentally, this also occurs with CNTL-F5] when I return to my code I lose intellisense: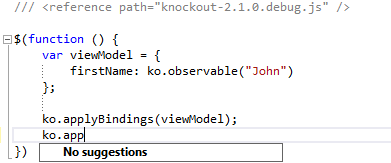 The only way I've found to get intellisense to work again is to go Tools -> Import and Export Settings -> Reset all settings. The problem is that this only continues to work until I run the application again.
Does anyone know how to permanently fix this issue? Thanks!
UPDATE: It appears this is related to ReSharper (I'm using 7.0.1). If I change it from ReSharper to Visual Studio intellisense under the General Options for ReSharper the problem goes away. I guess this changes my question slightly - how do I get intellisense to work for frameworks like knockoutjs when using ReSharper?