I have a UILabel and a UITextView both with the same text (the string "SnellRoundhand", in Snell Roundhand Bold font, point size 21). The text in the UITextView appears correctly, but the UILabel has its text cut off on the left and right sides. How do I get the text in the label to appear properly?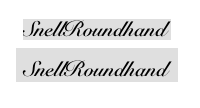 Some notes:
Expanding the frame of the label won't work because it might solve the cutoff issue on the right side of the text but not on the left side.
I can't take the cheap way out and center the text; the text must stay at whatever alignment it is in right now.
The reason I can't just change everything to UITextViews is because my app does some processing in the background and it crashes whenever it instantiates a UITextView. I'm hoping I can get around the issue by using UILabel instead to render the text.