I'm developing a ASP.Net web handler that returns images making a in-memory System.Windows.Forms.Control and then exports the rendered control as a bitmap compressed to PNG, using the method DrawToBitmap(). The classes are fully working by now, except for a problem with the color assignment. By example, this is a Gauge generated by the web handler.
The colors assigned to the inner parts of the gauge are red (#FF0000), yellow (#FFFF00) and green (#00FF00) but I only get a dully version of each color (#CB100F for red, #CCB70D for yellow and #04D50D for green).
The background is a bmp file containing the color gradient. The color loss happens whether the background is a gradient as the sample, a black canvas, a white canvas, a transparent canvas, even when there is not a background set.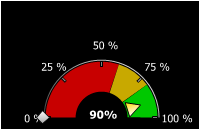 With transparent background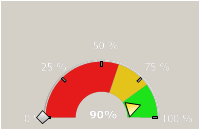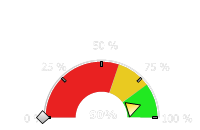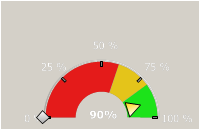 With pixel format in Format32bppArgb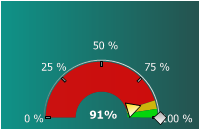 I've tried multiple bitmap color deeps, output formats, compression level, etc. but none of them seems to work. Any ideas?
This is a excerpt of the source code:
Bitmap bmp = new Bitmap(w, h, System.Drawing.Imaging.PixelFormat.Format32bppPArgb);
Image bgimage = (Image) HttpContext.GetGlobalResourceObject("GraphicResources", "GaugeBackgroundImage");
Canvas control_canvas = new Canvas(); //inherits from Control
....
//the routine that makes the gauge
....
control_canvas.DrawToBitmap(bmp, new Rectangle(0, 0, w, h));