I recently published my first MVC 2 project to a commercial web server, running Windows 2008, and which purportedly supports other MVC sites without issue, but have been experiencing some problems. Here is the high-level structure of the project. As you can see, it is very simple: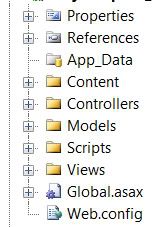 But, after the site is published, and I navigate to the URL, I get "HTTP Error 403.14 - Forbidden: The Web server is configured to not list the contents of this directory."
So, I contacted the web host about it and was told I had to include a default landing page, such as Default.aspx, Index.aspx, etc. I doubted this response was accurate because I thought MVC Routing would have taken care of this, but I did as suggested anyway, adding a redirect to my home controller in the Default.aspx.cs codebehind, but got an HTTP Error 404. I added that redirect per advice similar to that found in this article: http://www.58bits.com/blog/CommentView,guid,10b2ddfa-057c-41d0-bdc7-564b212ce896.aspx.
I've been going back and forth with the web host about this for over a week, across about a dozen different responses and answers, yet I have not been able to find a resolution to this. I am sure this is a simple thing to resolve, but I have no idea what to try next, or what to suggest to the web hosting support that they try next.
Soooo ... knowing that the StackOverflow community is smarter than me and the support techs for my web hosting company combined, a thousand times over, I'm hoping you can help me work toward a resolution here, so I can successfully publish my project and access it without error.