I am writing a program in C that calculates this formula: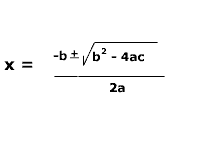 here is the line of code (I am just using + instead of the +-):
x = ((-1 * b) + (sqrt(pow(b, 2) - 4 * a * c)))/(4 * a);

I am not getting the correct root. For example if a = 1, b=-2, and c=-2 it SHOULD be 2.73. Instead I am getting 1.37.
Been staring at the code and I don't see the mistake. Can someone point it out for me?