Is there any way to get a list of files that are in a (SVN) conflicted state using Tortoise SVN?
To do this, right-click on the folder containing the conflicts you wish to see, then click Resolve....
Note that this is something of a side-effect, since this option is (generally) for marking conflicts as resolved. It is also, however, intended to help you actually find and resolve the conflicts. The behavior is as follows:
A window will appear that lists all the file conflicts, with check-boxes next to them. If you double-click on a file name, Tortoise will bring up the Merge window for that file. When you've selected the files you want to mark as resolved (using the check-boxes), you can do so by clicking "Ok," or you can simply exit the window without changing the resolution status of any conflicts by clicking "Cancel."
You can't do it with TSVN, but it's rather easy for CLI-interface.
Just use svn status inside your WC and check output:
  The first seven columns in the output are each one character wide:
    First column: Says if item was added, deleted, or otherwise changed
    ...
      'C' Conflicted

Inside "Check for modifications" theres another button...
... "check repository" it will show conflicts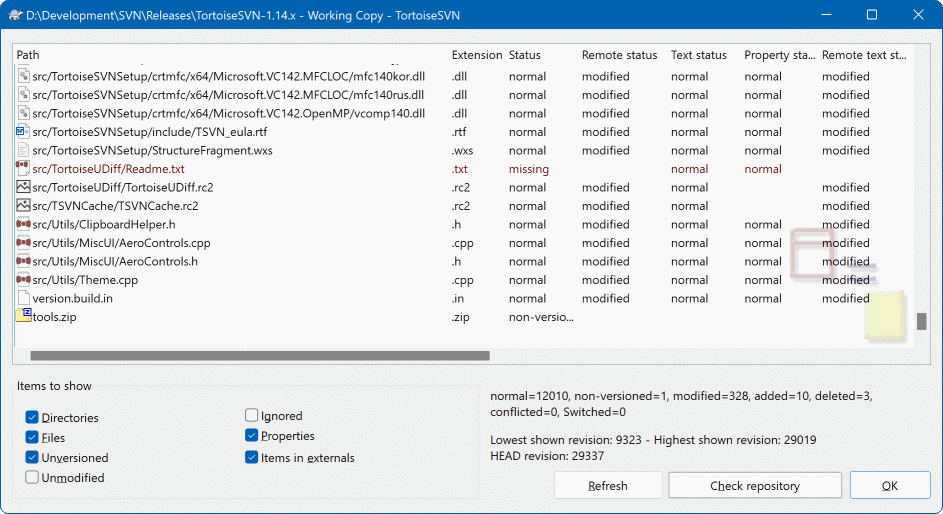 This is my source