Ahoy StackOverflow,
I have come across this issue in my project: in short, from what I've gathered, is that the PHP script called via AJAX is not properly registering SESSION variables that were set at the top of the index.php page. At first, I assumed that it was due to session locking, so I went ahead and added session_write_close(), however, that didn't fix the issue.
This issue only occurs about 25% percent of the time after a new user session begins (ie: when a user logs in).
I went ahead and deleted 90% of the code to get the bug down to its bare minimum coding necessary to reproduce.
Bad result from Firebug via ajax.php

Expected result from Firebug via ajax.php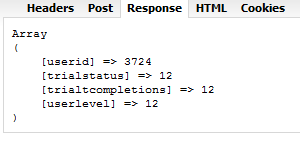 Note: Both results show the return of index's print_r($_SESSION) as Array ( [userid] => 3724 [trialstatus] => 1 [trialtcompletions] => 0 [userlevel] => 5 ) which lets me know the issue isn't with the session being set on the index page.
Does anyone know a fix (perhaps not even code-wise, maybe even a server setting) that will properly allow the script called via AJAX to access the Session variable correctly?
Testing Scenario for Reproduction
Delete all cookies for domain
Load page (max 2 times). Issue never occurs after 2 reloads.
If bad result isn't shown, repeat steps.
index.php
<?php

if (session_status() === PHP_SESSION_NONE) session_start();

if (!isset($_SESSION['userid']))
{
    $_SESSION['userid'] = 3724; //$login['AccountID'];
}

$_SESSION['trialstatus'] = "12";
$_SESSION['trialtcompletions'] = "12";
$_SESSION['userlevel'] = "12";
session_write_close();

print_r($_SESSION);
?>
<!DOCTYPE html><html><head><script src="./js/jquery.min.js"></script>
<script>
    function loadStage(step,input,callback){
        $.ajax({
            type: "POST",
            url: "./ajax.php",
            data: { step: step, input: input },
            dataType: "JSON",
            timeout: 5000,
            success: function(data){
                if(data !== false){
                    callback(data);
                }
            }
        });
    }

    $(document).ready(function(){
        startLoadingSequence();
    });

    function startLoadingSequence(skipped){
        loadStage(1,skipped,function(data){});
    }
</script>
</head></html>

ajax.php
<?php
if (session_status() === PHP_SESSION_NONE) session_start();

print_r($_SESSION);

if (!isset($_SESSION['userid']))
{
    die(json_encode(array(
        "error",
        "You must be logged in to view report data."
    )));
}
?>

Per request:
Read comments for extra information